Dosing for BRIDION® (sugammadex)
Dosing based on actual body weight and depth of block
Routine co-administration of an anticholinergic agent is not required.
Treatment with anticholinergic agents, such as atropine, should be administered if clinically significant bradycardia is observed.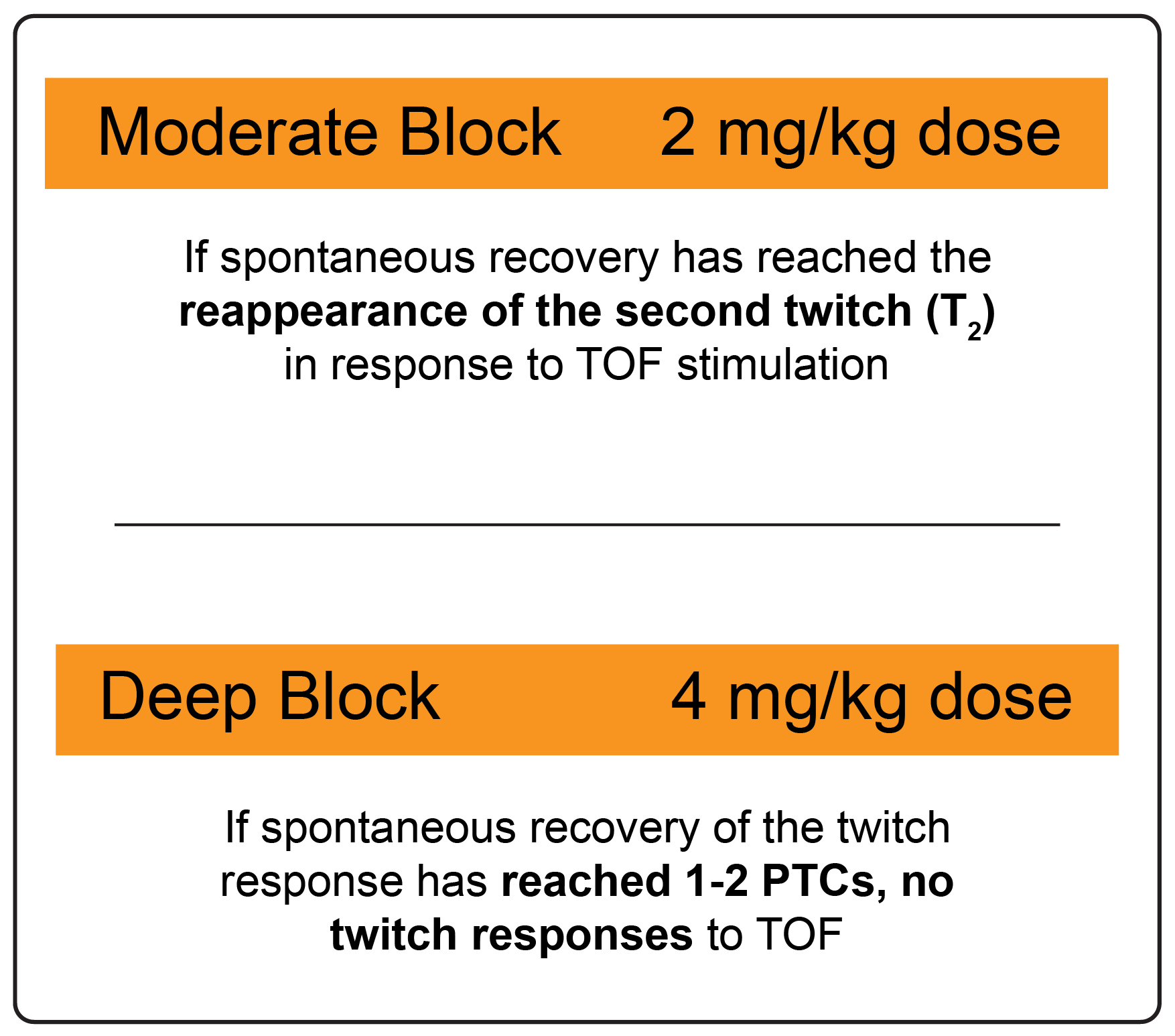 The recommended dose of BRIDION does not depend on the anesthetic regimen.
Administer BRIDION intravenously as a single bolus injection. The bolus injection may be given over 10 seconds into an existing intravenous line. BRIDION has only been administered as a single bolus injection in clinical trials.
BRIDION 100 mg/mL may be diluted to a concentration of 10 mg/mL, using 0.9% sodium chloride injection, USP, to increase the accuracy of dosing in the pediatric population. Review the PI for additional instructions on how to dilute BRIDION for pediatric use.
No dose adjustments of BRIDION required in these special patient populations
Geriatric patients with normal organ function
Patients diagnosed with or who have a history of pulmonary complications
Patients diagnosed with or who have a history of cardiac disease (eg, patients with ischemic heart disease, chronic heart failure, or arrhythmia)
Patients with mild to moderate renal impairment

BRIDION is not recommended for use in patients with severe renal impairment, including those requiring dialysis.

Obese patients with a BMI ≥40kg/m2
Drug compatibility
May inject BRIDION into the intravenous line of a running infusion with the following intravenous solutions:

0.9% sodium chloride
5% dextrose
0.45% sodium chloride and 2.5% dextrose
Ringer's solution
Isolyte P with 5% dextrose
Ringer's lactate solution
5% dextrose in 0.9% sodium chloride

Ensure the infusion line is adequately flushed (eg, with 0.9% sodium chloride) between administration of BRIDION and other drugs.
Do not mix BRIDION with other products except those listed above.
BRIDION is physically incompatible with verapamil, ondansetron, and ranitidine.
Visually inspect parenteral drug products for particulate matter and discoloration prior to administration, whenever the solution and container permit.
Abbreviations
BMI = body mass index
PTC = post-tetanic count
TOF = train-of-four
T2 = second twitch