In the VICTORIA trial, VERQUVO demonstrated an adverse event profile similar to placebo
VERQUVO is well tolerated by patients following a HF hospitalization or use of outpatient IV diuretics
The adverse drug reactions occurring more commonly with VERQUVO than placebo and in ≥5% of patients treated with VERQUVO in VICTORIA

7.0% of patients taking VERQUVO discontinued due to AEs1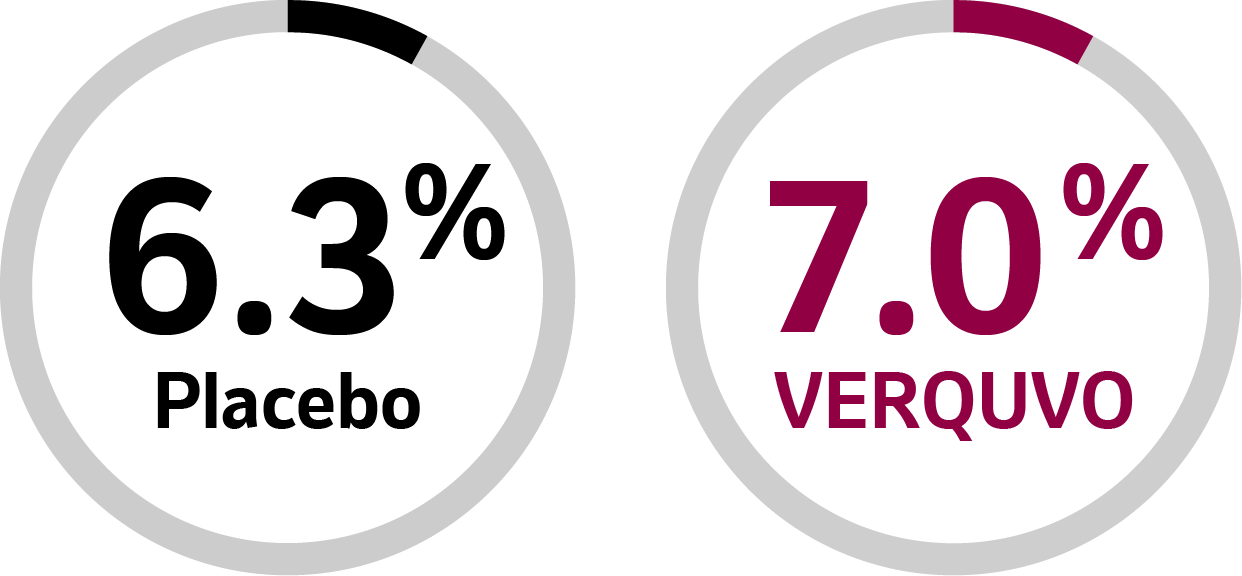 aBackground therapy included beta blocker, ACE inhibitor, ARB, MRA, ARNI, or SGLT2 inhibitor.
Study design
VICTORIA was a Phase 3, randomized, parallel-group, placebo-controlled, double-blind, event-driven, multicenter trial comparing VERQUVO to placebo when added to background HF therapy in 5,050 adult patients with NYHA class II-IV chronic HF and LVEF <45% following a worsening HF event (defined as HF hospitalization within 6 months before randomization or use of outpatient IV diuretics for HF within 3 months before randomization). Patients were treated up to the target maintenance dose of VERQUVO 10 mg once daily or matching placebo. The primary endpoint was a composite of time to first event of CV death or HF hospitalization.1
Definitions:
ACE = angiotensin-converting enzyme; AEs = adverse events; ARB = angiotensin II receptor blocker; ARNI = combination of an angiotensin receptor and neprilysin inhibitor; LVEF = left ventricular ejection fraction; MRA = mineralocorticoid receptor antagonist; NYHA = New York Heart Association; SGLT2 = sodium glucose co-transporter 2; VICTORIA = Vericiguat in Patients with Heart Failure and Reduced Ejection Fraction.
Reference:
1. Armstrong PW, Pieske B, Anstrom KJ, et al. Vericiguat in patients with heart failure and reduced ejection fraction. N Engl J Med. 2020;382(20):1883-1893.