Adverse events (AE) in HSCT patients
Cardiac AEs
The cardiac AE rate (regardless of investigator-assessed causality) was higher in subjects receiving PREVYMIS (13%) compared to subjects receiving placebo (6%). The most common cardiac AEs were tachycardia (reported in 4% of PREVYMIS subjects and in 2% of placebo subjects) and atrial fibrillation (reported in 3% of PREVYMIS subjects and in 1% of placebo subjects). Among those subjects who experienced 1 or more cardiac AEs, 85% of PREVYMIS and 92% of placebo subjects had events reported as mild or moderate in severity.
All grade AEs reported in ≥10% of patients treated with PREVYMIS at a frequency at least 2% greater than placebo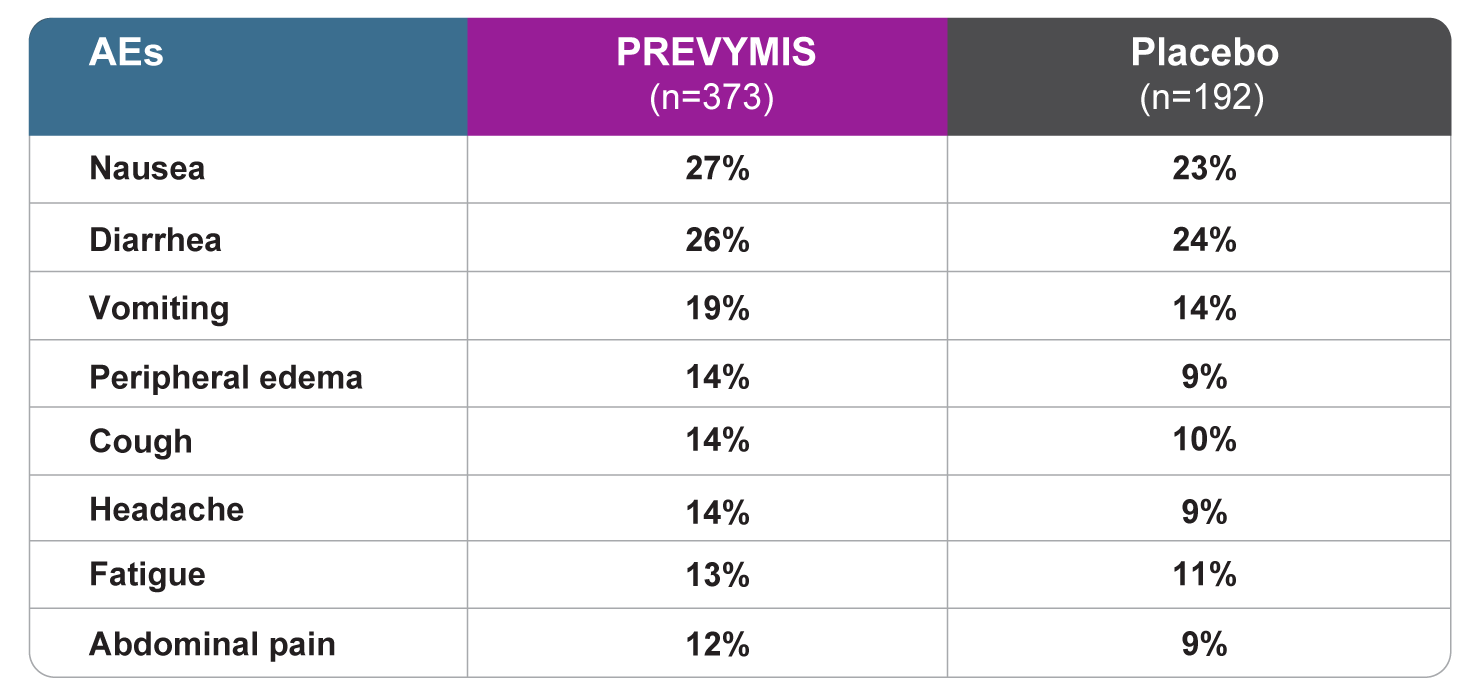 Drug-related renal and hepatic AEs1

Rates of discontinuation due to AEs were comparable between PREVYMIS and placebo (13% vs 12%, respectively)
No differences in incidence of or time to engraftmenta between PREVYMIS and placebo2
(a) Engraftment was defined as an absolute neutrophil count ≥500/mm3 on 3 consecutive days after transplantation.
References
Data available on request from Merck Professional Services-DAP, WP1, PO Box 4, West Point, PA 19486-0004. Please specify information package

US-CYT-01362

.
Marty FM, Ljungman P, Chemaly RF, et al. Letermovir prophylaxis for cytomegalovirus in hematopoietic-cell transplantation. N Engl J Med. 2017;377(25)(suppl):1-54. Accessed March 17, 2023. http://www.nejm.org/doi/suppl/10.1056/NEJMoa1706640/suppl_file/nejmoa1706640_appendix.pdf