Study design
A pivotal, phase 3 study
Cytomegalovirus (CMV) prophylaxis was assessed in a randomized, multicenter, double-blind, placebo-controlled, pivotal, phase 3 study of adult CMV-seropositive recipients [R+] of allogeneic hematopoietic stem cell transplant (HSCT). Patients were randomized 2:1 to PREVYMIS or placebo and stratified by study site and high vs low risk (N=565).
All-cause mortality through week 48 post-transplant was a prespecified, exploratory analysis.1
The protocol-specified guidance for CMV DNA thresholds for the initiation of preemptive therapy (PET) during the treatment period were ≥150 copies/mL or >300 copies/mL for subjects in the high and low risk strata, respectively.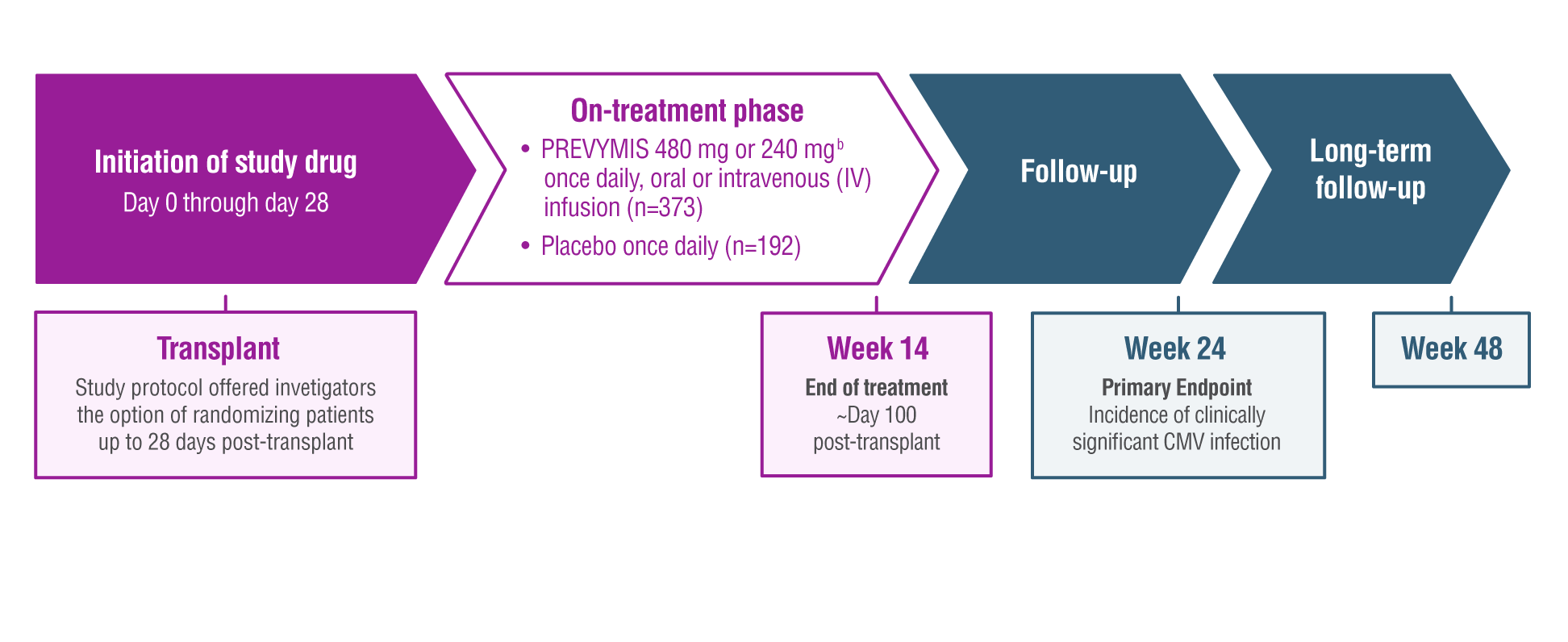 (a) When coadministered with cyclosporine, the dose of PREVYMIS was decreased to 240 mg once daily, oral or IV infusion.
Patients were considered at increased risk for CMV reactivation if they had 1 or more of the following factors:

Human leukocyte antigen (HLA)-related donor with at least 1 mismatch at 1 of 3 HLA-gene loci: HLA-A, -B, or -DR
Haploidentical donor; unrelated donor with at least 1 mismatch at 1 of 4 HLA-gene loci: HLA-A, -B, -C, or -DRB1
Use of umbilical cord blood as the stem cell source
Use of ex vivo T-cell–depleted grafts

Grade 2 or greater graft-versus-host disease (GVHD), requiring systemic corticosteroids
Reference
Marty FM, Ljungman P, Chemaly RF, et al. Letermovir prophylaxis for cytomegalovirus in hematopoietic-cell transplantation. N Engl J Med. 2017;377(25):2433–2444.