Ordering and coding information for RECARBRIO™ (imipenem, cilastatin, and relebactam)
How to order RECARBRIO
Learn about:
Wholesaler information
Product: RECARBRIO
Packaging: Carton contains 25 single-dose 20 mL vials
National Drug Code (NDC): 0006-3856-02
| Distributor | Order Code for RECARBRIO |
| --- | --- |
| Cardinal | 5855283 |
| Cencora | 10280765 |
| McKesson | 2829729 |
| Morris & Dickson | 879668 |
Package size and dimensions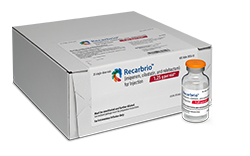 Sales package size (carton):
Twenty-five (25) single-dose 20 mL vials
Carton dimensions:
190 x 72 x 186 mm
---
Coding and billing information
This is a list of possible codes that may be relevant when billing for RECARBRIO. Please consult with the applicable payer or, where applicable, the Medicare Administrative Contractor, to understand the payer's specific billing requirements.
You are solely responsible for determining the appropriate codes and for any action you take in billing. Information about HCPCS codes is based on guidance issued by the Centers for Medicare & Medicaid Services (CMS) applicable to Medicare and may not apply to other public or private payers. Consult the relevant manual and/or other guidelines for a description of each code to determine the appropriateness for a particular code and for information on additional codes.
The information available here is compiled from sources believed to be accurate, but Merck makes no representation that it is accurate. This information is subject to change. Payer coding requirements may vary or change over time, so it is important to regularly check with each payer as to payer-specific requirements. The information available here is not intended to be conclusive or exhaustive, and is not intended to replace the guidance of a qualified professional advisor. Merck and its agents make no warranties or guarantees, expressed or implied, concerning the accuracy or appropriateness of this information for your particular use given the frequent changes in public and private payer billing. The use of this information does not guarantee payment or that any payment received will cover your costs.
RECARBRIO is billed using a Level II HCPCS code.1
Healthcare Common Procedure Coding System (HCPCS) code application summaries and CMS decisions for Q3 20201
| HCPCS Code | Description | Billing Units |
| --- | --- | --- |
| J0742 (effective July 1, 2020)1,2 | Injection, imipenem 4 mg, cilastatin 4 mg and relebactam 2 mg1 | 125 (each vial of RECARBRIO equals imipenem 500 mg, cilastatin 500 mg, and relebactam 250 mg)1 |
| S9503 | Home infusion therapy, antibiotic, antiviral, or antifungal; once every 6 hours; administrative services, professional pharmacy services, care coordination, and all necessary supplies and equipment (drugs and nursing visits coded separately), per diem | N/A |
Use form CMS-1500 for in-office injection; in the hospital outpatient department setting, submit claims using form UB-04 (also known as CMS 1450). For questions on billing if a portion of the package is wasted, consult the applicable payer's policy regarding wastage.
Please note that effective January 1, 2017, providers are required to use the JW modifier for Medicare claims with unused drugs or biologicals from single-use vials or single-use packages that are appropriately discarded.3
Drug administration Current Procedural Terminology (CPT®) code4
| | |
| --- | --- |
| CPT Code | 96365 |
| Carton Description | Intravenous infusion, for therapy, prophylaxis, or diagnosis (specify substance or drug); initial, up to 1 hour |
CPT copyright © 2022 American Medical Association. All rights reserved. CPT is a registered trademark of the American Medical Association.
Possible revenue codes for use in hospital outpatient setting5
Consult the relevant manual and/or other guidelines for a description of each code to determine the appropriateness of a particular code and for information on additional codes.
| Revenue Code | Description |
| --- | --- |
| 0636 | Drugs requiring detailed coding |
| 0250 | General pharmacy |
References
1. HCPCS Quarterly Update, July 2021. Accessed July 6, 2023. https://www.cms.gov/Medicare/Coding/HCPCSReleaseCodeSets/HCPCS-Quarterly-Update
2. Centers for Medicare & Medicaid Services. Centers for Medicare & Medicaid Services (CMS) Healthcare Common Procedure Coding System (HCPCS) application summaries and coding decisions. Accessed June 28, 2023. https://www.cms.gov/files/ document/2020-hcpcs-application-summary-quarter-1-2020-drugs-and-biologicals.pdf
3. Centers for Medicare & Medicaid Services. MLN Matters 9603. Revised January 1, 2017. Accessed June 28, 2023. https://www.hhs.gov/guidance/sites/default/files/hhs-guidance-documents/mm96033.pdf
4. American Medical Association. CPT Code/Relative Value Search- 96365. Accessed June 27, 2023. https://www.aapc.com/codes/cpt-codes/96365
5. Noridian Healthcare Solutions. Revenue Codes. Last Updated June 28, 2022. Accessed June 27, 2023. https://med.noridianmedicare.com/web/jea/topics/claim-submission/revenue-codes